When we were in high school and college, one tradition among my friends was to have pre-concert sleepovers, which usually entailed watching videos of whatever band we were going to see, eating junk food, and basically just laughing a lot (or giggling inanely). One of my friends suggested bringing the tradition back and incorporating outfit planning into the night's events.
It was good to get feedback on my outfit ideas and to offer suggestions and access to my relatively sizable collection of accessories. The biggest decision was what each of us was going to wear to the Backstreet Boys show on August 3 in St. Louis since two of us had purchased VIP packages to meet the guys, and my third friend is hoping to still purchase it before the show. It was a lot of pressure and nothing seemed perfect enough. I think we all picked really cute things - thank goodness for being able to share clothes, though! I ended up with my friend T's dress, and she's going to be wearing one of mine for that show.
Here are my final looks:
And a preview of my meet & greet outfit:
Also, if you're a fan of NKOTB or Full House at all, you have to read Candace Cameron Bure's
experience
from the LA Package Tour show. So cute.
Below is what I wore for the first half of the day before I got chocolate on the T-shirt and changed. Speaking of spilling things, last summer I spilled milk or something on the floppy hat I
bought at Bastille Days
a couple year ago and didn't realize it until it was too late. So now I'm back to this weird-shaped hat I've had for awhile. I tried to wrangle my toddler to fully match the
Inspiration Monday
picture, but that wasn't happening.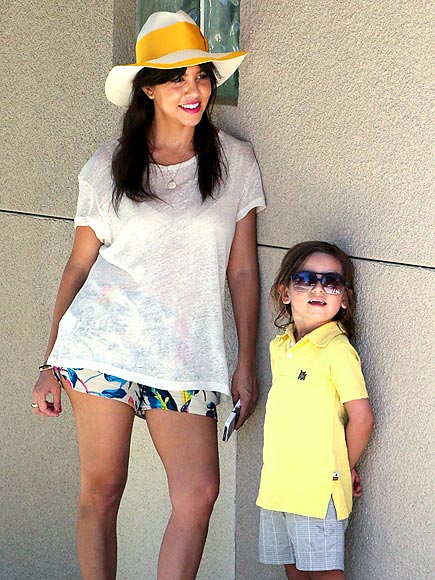 T-shirt: husband's; Shorts: Target; Shoes: Converse (gift); Hat: ?; Necklace: gift; Bracelet: Kate Spade