OK, this is only a review of the two pieces I ordered, so nothing too exciting. I had not heard about the
labworks
collection at Target until I read about it on
Piper's blog
, and then I ended up buying two of the same pieces that she bought.
First up is the lime
twist-front tulip skirt
, which I ordered in a large and XL with the intention of returning whichever one didn't fit. The XL is pictured here:
As you can see, it's suuuuuuuuuuper tight and unflattering on me. The material is very thin; and even with the lining, it's still pretty sheer. If I wanted this to work (which I don't really), I'd probably try the plus size version instead. Then again, the waist fit fine, so who knows.
The second item I bought is the black/lime
sleeveless neoprene dress
in a large.
This one was the correct size for me. I wasn't sure how the cutouts were going to work, but it turns out that they're kind of cute and fun. The length, however, is not. I shouldn't have been surprised - all dresses from Target that aren't Merona brand are basically minis on me. It might work for concerts and outdoor festivals and such. I could even sew a strip of black neoprene at the bottom, but that sounds like too much effort. I ended up asking my husband what he thought, and he wasn't a fan. Looks like this one is probably getting returned, too.
The cool thing about this collection is that they offer all the items in plus, regular, and petite sizes - so no one misses out. Unfortunately, it's only available online, so ordering things in a couple of sizes like I did might be your best bet.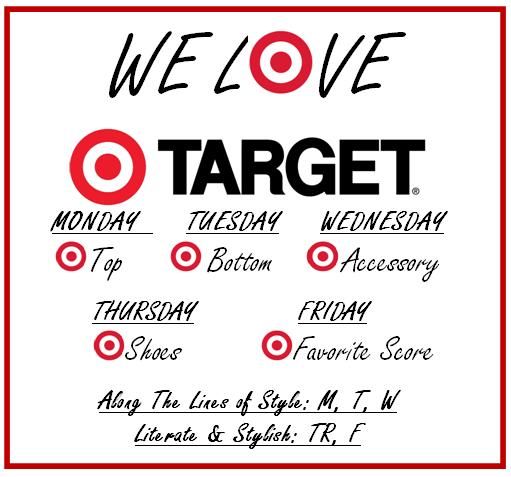 This is a stretch for "favorite score" for the We Love Target link-up, but I'll go with it. They had potential... Bridget's wearing a cute Target T-shirt and skirt, so that works.