Yeah, so I didn't wear this anywhere. There are approximately zero places I would feel comfortable wearing a sheer shirt outside of my dimly lit hallway. Luckily, my top isn't
that
sheer. Since I didn't have an event to go to, I figured I'd just play dress up for
Inspiration Monday
.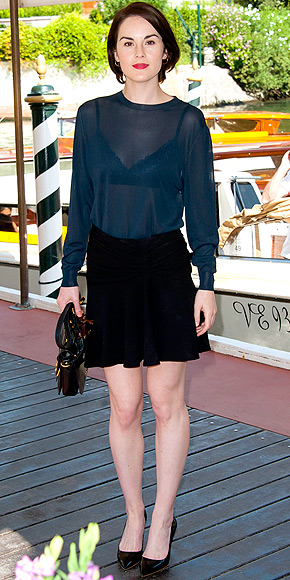 Top: Kohl's; Skirt: JCP; Shoes: Rebecca Minkoff
Also, I'm debating whether to sell these shoes to a consignment store or maybe try Ebay. I've worn them a couple times, but the toe area is a little narrow for my wide feet, and I have trouble walking in them, even with heel inserts. I'm probably going to sell my
Christian Siriano top
, too, which I've also only worn once or twice. It does have sentimental value since I bought it from his shop in NYC, and it was a super good deal, but that doesn't change the fact that it will always be a little too snug.
Have you had luck selling shoes or clothing on Ebay? I can't decide if it's worth the effort. Going to the consignment shop would be a lot easier.