Friday
Lace Tank and Tights: Target; Long Sleeve Shirt: Old Navy; Blazer: New York & Company; Skirt: self-made; Boots: Vince Camuto
Following a quick/putzy change of clothes after work, I headed down to Illinois for Modly Chic's Schoolhouse Swap. More about that in another post, but in summary, I had fun hanging out with some cool bloggers and scoring a big bag of new-to-me clothes!
We got done swapping around 9, so I still had time to stop by a friend's birthday party for a drink or two. I made it home by around 1 I think and crashed...after trying on all my swapped goodies and being quite pleased with what I came out with.
Saturday
Lace Tank: swap; Blazer and Necklace: Kohl's; Jeans: Old Navy; Clutch: Fred Boutique; Boots: Target
Saturday morning, I woke up far too early when hubs decided Bridget needed to come in and climb on mommy. It was fine, though, because I needed the time to clean and decorate for Bridget's birthday party. We had a good turnout for that, and Bridget got a lot of great gifts! More on the party in a later post, too.
Shortly after everyone headed out, including Bridget who was staying at grandma and grandpa's for the night, hubs and I continued the partying at his unofficial work Christmas party. It's held every year at a woman's house, and it's always a good time. Since I used to work there too, I really enjoyed catching up with my old coworkers. They're a fun bunch!
Sunday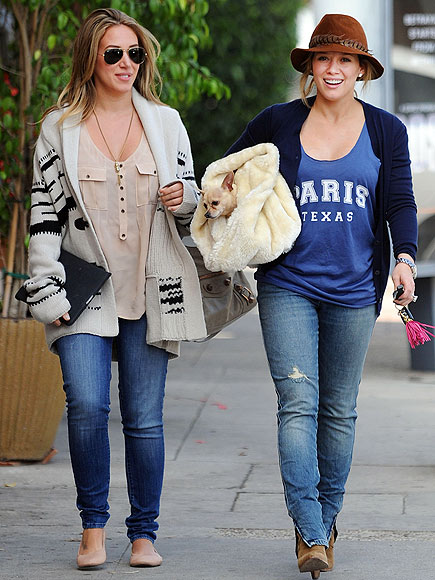 Cami and Jeans: New York & Company; Tank Top and Cardigan: Old Navy; Shoes: Kohl's; Necklace: swap
Since I woke up completely exhausted, I wanted to be comfy on Sunday, so I recreated Haylie Duff's look for
Inspiration Monday
. First, we had to go to my parents' to pick up Bridget. It was hard getting out the door when all we wanted to do was sleep, but we somehow made it to my parents' church on time. Then, we went back to their house for lunch and left shortly after that.
I dropped hubs off at home, and Bridget and I continued on to the mall. Caffeine was the only thing keeping me going at that point, but I had an expiring 40% off Gap coupon that could only be used in stores that I didn't want to waste. It was a productive trip, and I got all three of my sisters-in-law done for Christmas. I could've probably accomplished even more, but Bridget was starting to lose it near the end.
So yeah! That was my crazy busy weekend. I like having those once in awhile as long as it's not too often...it was tiring but a lot of fun. Next weekend, the fun continues; and the weekend after that, we're off to Maine! So far, I'm liking December.