Results:
Donate.
I have a theory. The cardigans I button up tend to get voted off, and the cardigans I leave open I pretty much always get to keep. That's probably because most of my cardigans have been through the wash a hundred times, and as a result are a little too small, but you can't really tell when they're unbuttoned. I do wear this cardigan a lot, but it could be time to replace it with a different boyfriend cardigan in another color. I don't really look that great in gray anyway. At least I got to keep my shorter gray cardigan, which I prefer anyway.
Next up:
I was a big fan of the
Inspiration Monday
photo for...yesterday. The look felt very me even though I was copying Elizabeth Olsen.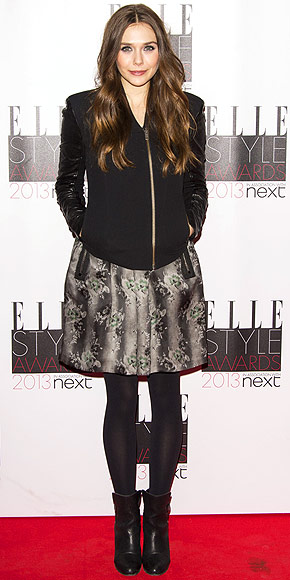 Skirt: Narciso Rodriguez for Kohl's; Jacket: Walgreens; Tights: Assets by Spanx; Booties: Steve Madden
And here's the sweater you're voting on today:
Necklace: Target; Bracelet: c/o Wantable
I found the light! It only took my two years of blogging...Tyra would be proud. Heh. I wore this sweater tucked in all day, but I wanted to untuck it to show you the tie detail, which is on both sides.
I have no idea where I got this, but the brand is Royalty.
The decision's up to you