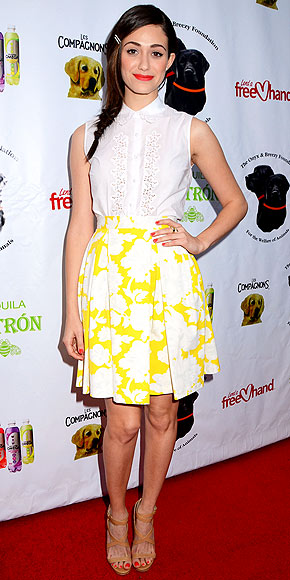 As much as I wish I had Emmy Rossum's exactly yellow skirt she's wearing in the
Inspiration Monday
photo for today, I don't. I actually thought I did because it looks so much like something I would have. The material is similar to fabric I have sitting in the dining/sewing room waiting to be made into a dress; and for a minute, I thought that I might actually finish it this weekend. Ha, yeah no. I've been saying that almost every week since
August 2011
when I bought the pattern (and now I'm not using either of the fabrics I showed in that post). Maayyyybe next weekend... I did finally start it, though, by cutting out the fabric yesterday. The pattern claims it's very easy, so hopefully the sewing part will be quick and painless. Whenever I get to it.
Skirt and Shirt: New York & Company; Necklace: ?; Shoes: Michael by Michael Kors
Don't ask me why I'm grabbing my skirt like that. I've been doing it all day, I think because it fits differently than it did last year when it hit me more at the waist.