Being a style blogger is embarrassing sometimes. After nearly being approached today by someone from whatever business's parking lot I was in, I've decided that I'm definitely taking outfit pictures inside for awhile. It was awkward. And it must've looked even more awkward from inside their building. Heh...I'm going to try to forget that ever happened...and hide inside.
Anyway, this past weekend Bridget and I drove up to Minnesota (about a half an hour from the twin cities) to hang out with my good friend from college and host her baby shower, which also turned into a surprise gender reveal. They had told their family and friends that they would not be finding out the gender of the baby, but they reconsidered at their 3D/4D ultrasound, and then I (along with their cute little doggy) got to help reveal the big news at the beginning of the baby shower. Here's the big moment:
The blonde lady sitting on the couch is the proud grandma-to-be. She was really happy and tearing up. You also get a quick glimpse of Bridget at the beginning, and I'm the one at the very beginning saying, "So Indy, come on out!" Funnily enough, my friend and I sound exactly the same on this video, and I don't think we do in real life except for our loud laughs. So that was fun. It turned out to be a nice little shower with yummy food and really
delicious punch
. Plus, I successfully frosted cupcakes using a pastry bag. That was a little victory in itself.
Here's what I wore on the drive home from Minnesota and for one of my two looks for
Inspiration Monday
:
Dress: Wet Seal; Jacket: Walgreens; Striped Top: Old Navy; Boots: Target; Watch: La Mer
I'm holding a bloody mary...the drive home was a little rough. Bridget was perfectly well behaved, but it was raining most of the way, and I hit traffic and ended up taking back roads home. Little did I know, my husband forgot to put vodka in my drink.
Inspiration picture: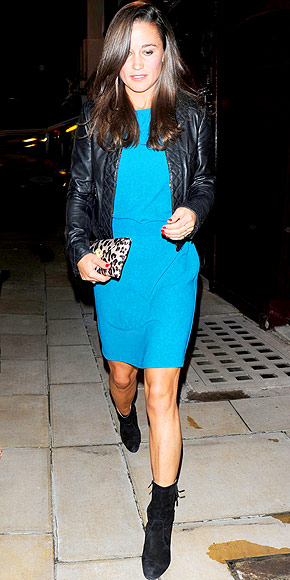 Since I had two ideas for this week's Pippa Middleton look, I wanted to include both of them. Here's what I wore today:
Dress and Blazer: Target; Jacket: Walgreens; Booties: ModCloth