While Bridget and hubs had a father-daughter day, I ran errands and went to a friend's house to scrapbook and watch a movie on Saturday. I forgot how much easier it is shopping and running errands without a toddler. I almost felt like Superwoman, especially after I was curled up in bed with a fever and chills the night before.
First, I picked up a few things at Target, including some cold medicine to keep those symptoms at bay and keep me going. Then, I hit up Starbucks for another type of necessary fuel. From there, I visited the cute town of Cedarburg to shop for some baby shower prizes for next weekend. I was super bummed to learn that my favorite gift shop, an artsy and quirky shop with lots of fun girly things, had closed. Even still, it wasn't too hard to find plenty of other things to buy. Then, I headed to Brookfield to finish up my baby shower shopping at Buy Buy Baby. Whenever I'm at that store, which is seldom, I have to check out the World Market next door. I ended up buying a scarf (um...what shopping ban? JK...) and a couple bottles of red wine since they were have a sale. Darn sales. For my last stop, I noticed Brookfield Square Mall now has a North Face store. Since hubs needed a new winter hat, I swung in there and picked him up one. And then I headed to my friend's house for some more productivity.
I tend not to be the most focused or prepared scrapbooker; but after almost 3.5 years, I'm one page away from finishing my pre-wedding scrapbook (which also includes some pictures from the wedding day). I just have to print out pictures from my gift opening, and then that's done. I also worked more on my Bridget album, which is coming along nicely.
After all that, we girls unwinded with some wine, talk of boys, and movie watching.
Here's what I wore for my productive day and for
Inspiration Monday
.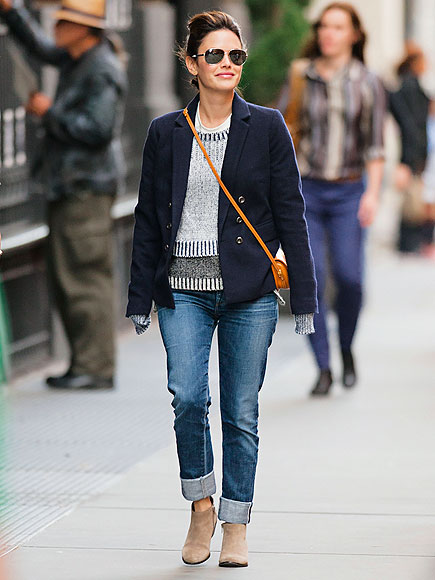 Sweater: Gap; Jacket: Sofia Vergara for Kmart; Jeans: NY&Co; Booties: Mr. Shoe; Sunglasses: Target
Yeah, right after I stopped at Target, I bought shorter socks and later changed into those.