Well, my cheeks and lips are windburned and my clothes were saturated, but I had such a good time at Rock the Green.
Hubs and I showed up right as Fitz and the Tantrums were singing "Moneygrabber," their last song. Ben Folds was next, so we found a spot near the right side of the stage around second row. I naively thought there would be seats in the premier seating section, so I neglected to bring a blanket like others had. At that point, since the ground was dry, we just plopped down and waited for Ben Folds to start.
Around the time Ben Folds began his set, it also started sprinkling. He played a few songs in the rain but then felt guilty about ruining the piano. He continued the show by talking to the crowd and doing a couple songs a capella. Then he was like, "what should I do now?" to people off stage. They told him to do one more song on the piano and call it quits. I recognized maybe half the songs he played, and my favorite was "Annie Waits." I believe that's the only one hubs recognized.
It was raining pretty steadily after Ben Folds' set, but luckily, we each had an umbrella, and hubs gave me his rain jacket to wear. We decided to walk around for a little bit while the crew decided whether or not The Fray was actually going to go on and how they would waterproof the stage. We located a Stonecreek Coffee stand and got ourselves warm beverages before heading back to the stage.
While the crew continuted covering things with plastic wrap, tarps, and vendor tents, Isaac, the leader singer of the Fray, came out a couple times and talked/waved to the crowd. It was nice to know they were trying to get on stage and not giving up due to all the rain.
I'm not sure what time The Fray actually took the stage, but I don't think it was much later than planned. Some of the songs they played were from their upcoming album, but of course there were also their singles, "Cablecar," "How to Save a Life," and "You Found Me." I believe "All at Once" (love that one) was the only other one they played from their first album. I thought the coolest part of the show was after the band left the stage and Isaac continued on his own. He took some requests from the crowd and played "Never Say Never" and "Syndicate" from their second album. As you can see from one of the pictures below, he also wanted to show us that a local had taught him how to hula hoop. It was amusing.
Despite the miserable weather, it was a great show. I really enjoyed it, and I kinda wish I could follow The Fray on tour now. Shocker. They did sign autographs after the show, but I knew hubs was done, and I was pretty cold and over the rain at that point, too.
And now for the
Inspiration Monday
picture from Two Birds and what I wore to the show.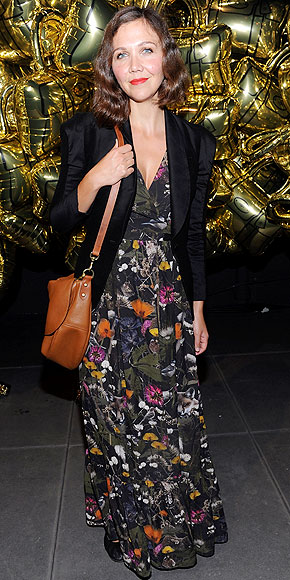 This picture is from after the show, so I'm still a little soaked.


Cardigan: Old Navy; Necklace: ?; Everything Else: Target